Do you want to help close the justice gap and be a legal advocate serving your community? The Montana Tribal Advocacy Incubator Project (TAIP) recruits, trains, mentors, and supports people to become tribal lay advocates. Tribal lay advocates represent tribal members in tribal court with common civil legal matters including divorce and custody,  landlord-tenant disputes, wills and probate, real estate and land issues.  MLSA partners with Tribal Courts across Montana to meet the program goal of increasing the amount of legal assistance available in rural reservation communities.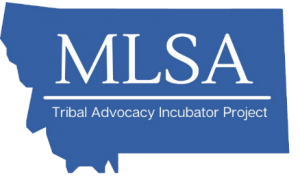 Tribal advocates represent individuals in tribal court without having a law degree. Tribal advocates must sit for the Tribal Bar Exam and be accredited by tribal court. While all the tribal courts have tribal advocates, there are currently not enough to meet the growing need for  legal aid on Montana's reservations. This is where TAIP is working to make an impact.
TAIP helps to train and equip tribal advocates with the skills and support  needed to sit for the Tribal Bar Exam and run their own legal practice.
To ensure participants receive the best possible training, MLSA partners with the Alexander Blewett III School of Law, the Indian Law Section of the State Bar, and Tribal Courts across Montana. The curriculum is  tailored to meet the needs of the participants and tribes taking part in the program.
Educational sessions are provided remotely as well as in-person. They focus on:
legal advocacy;
court representation; and
the basics of how to run your own business.
In addition to the trainings, participants receive:
a travel stipend for in-person training;
a stipend for office equipment and business start-up costs;
a stipend to cover costs of the Tribal  Bar Exam;
ongoing mentorship from MLSA; and
free participation in the Modest Means Program and the Montana Lawyer Referral & Information Service that connects prospective clients in need of sliding scale legal services.
The program is free to participants.
Once they finish the program and open their own legal businesses, TAIP participants can set their own fees for representing clients. However, participating advocates must agree to charge clients referred by the Modest Means Program no more than the Modest Means rate.
To learn more about the project and how to participate, please contact:
Valerie Falls Down,  Tribal Advocacy  Incubator Project Coordinator
406-248-7113 x 322