Thank you Montana Justice Foundation for helping ensure MLSA and all these exceptional organizations can continue to improve access to justice for Montanans!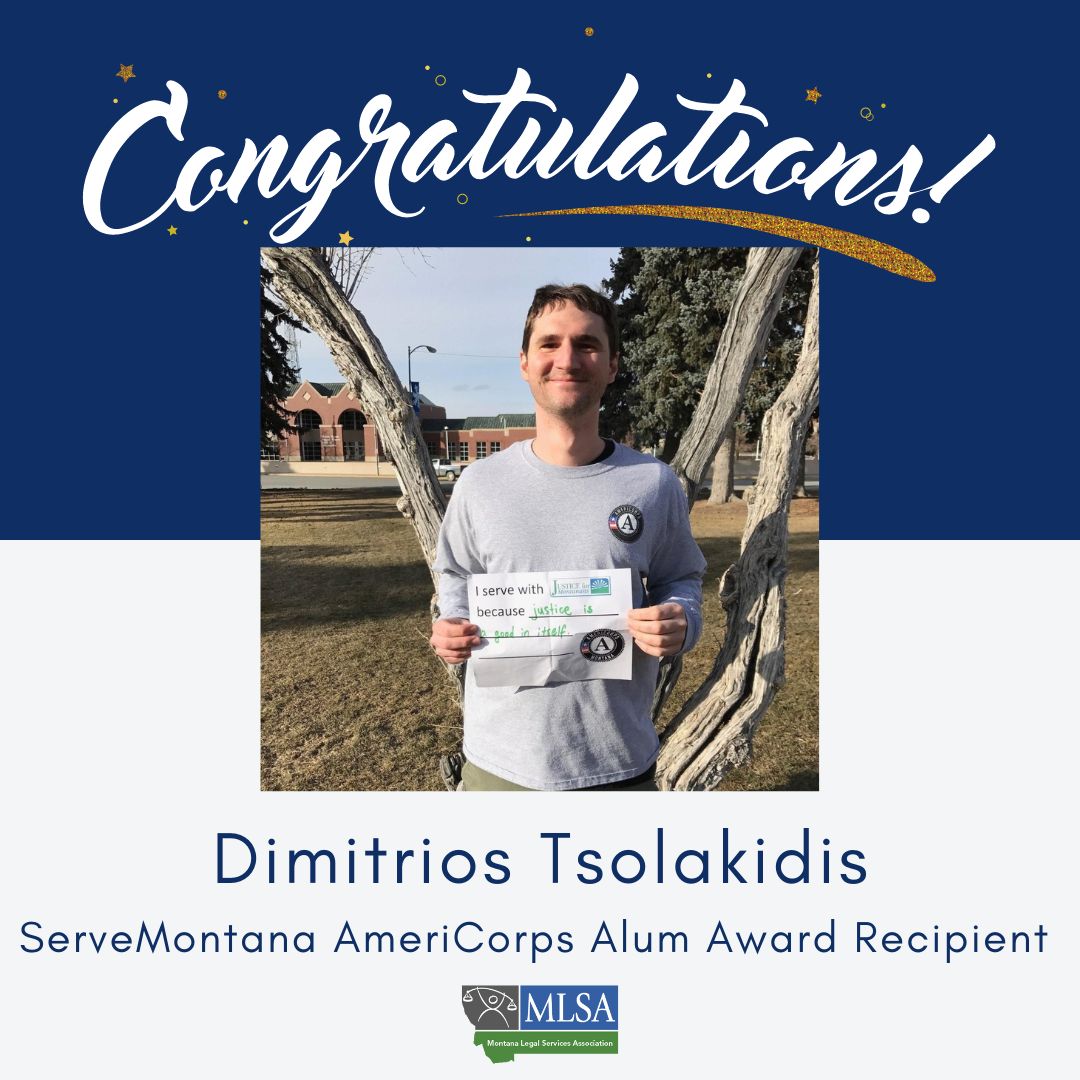 Huge shout out to Dimitrios Tsolakidis, recipient of the 2023 ServeMontana AmeriCorps Alum Award. Dimitrios, from Helena, volunteers with the Montana Legal Services Association's Pro Bono Program, helping low and moderate income Montanans get legal assistance. He served as a Justice for Montanans AmeriCorps member in the 2016-17 cohort with MLSA's Missoula office, supporting our …
From the minute the phone was answered by Erick, who was very courteous and helpful, we knew we weren't going to be brushed off. He told me he would talk to an attorney and get back to us. I received a call from Lawson, who was just great. He was very helpful in giving me advice and telling me what some of my options were. Wow! I have new faith in the services being provided to Montanans.
I am not an attorney, so I would not feel I am qualified to handle any legal issue myself - but I have confidence in MLSA… [that I will] receive the very best assistance and advice if and whenever required! I cannot think of any improvement to have been made in my representation. I was successfully guided through the entire issue - from beginning to end. I am thankful for their guidance.
Without the help of MLSA I would not have been able to find legal services. Their rapid response to my situation single handedly provided me with exactly what I needed. I honestly cannot think of a single thing to improve services. Everything earns an A+ in my opinion.
Your assistance was invaluable. There were so many crises coming at me at once that although I am a fighter, I felt the ground was going out from under me. You folks reached down and helped me with my biggest and most serious concern, which is protecting the interests of [my grandchildren]…. For this, I will be eternally grateful.
Next
Previous
We're Your Advocate for Justice
MLSA provides legal information, legal advice, and other civil legal services free of charge to low-income Montanans. Whether it is access to housing, food, income, safety, or healthcare, MLSA works to ensure that every person, regardless of income, has equal access to legal representation and justice.
Our Mission
is to protect and enhance the civil legal rights of, and promote systemic change for, Montanans living in poverty.