HELENA (KPAX) — Housing affordability and availability have remained major concerns across Montana over the last few years, and that's put added pressure on people dealing with evictions. The Montana Legal Services Association (MLSA) released a report this week, highlighting some of the ongoing impacts for people who went through the eviction process during the COVID-19 …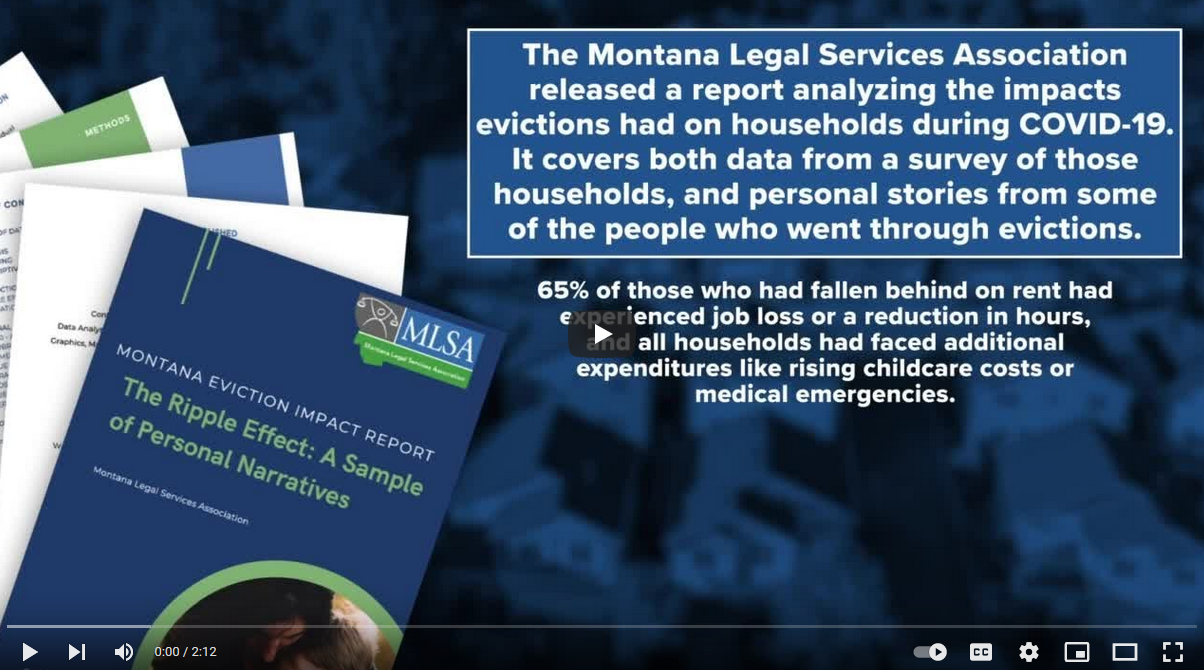 As MLSA's recent eviction report confirmed, eviction can have a devastating impact on households and families already struggling to make ends meet. MLSA attorney Daniel Webster spoke with KTVH about the challenge eviction poses to households and how MLSA can help. Click here for more information about MLSA's eviction report.
Without the help of MLSA I would not have been able to find legal services. Their rapid response to my situation single handedly provided me with exactly what I needed. I honestly cannot think of a single thing to improve services. Everything earns an A+ in my opinion.
I am not an attorney, so I would not feel I am qualified to handle any legal issue myself - but I have confidence in MLSA… [that I will] receive the very best assistance and advice if and whenever required! I cannot think of any improvement to have been made in my representation. I was successfully guided through the entire issue - from beginning to end. I am thankful for their guidance.
Your assistance was invaluable. There were so many crises coming at me at once that although I am a fighter, I felt the ground was going out from under me. You folks reached down and helped me with my biggest and most serious concern, which is protecting the interests of [my grandchildren]…. For this, I will be eternally grateful.
Next
Previous
We're Your Advocate for Justice
MLSA provides legal information, legal advice, and other civil legal services free of charge to low-income Montanans. Whether it is access to housing, food, income, safety, or healthcare, MLSA works to ensure that every person, regardless of income, has equal access to legal representation and justice.
Our Mission
is to protect and enhance the civil legal rights of, and promote systemic change for, Montanans living in poverty.