AmeriCorps is a national program that engages over 75,000 people each year in more than 21,000 organizations.
AmeriCorps provides not only an opportunity to serve, but also significant training and personal and professional development.
AmeriCorps is not a traditional "job." We are looking for people who are interested in service and are focused on meeting critical community needs.
Visit http://www.nationalservice.gov/programs/americorps to learn more about AmeriCorps.
Living allowance of $14,279 divided equally over 48-week term of service.
An AmeriCorps Education Award of $6,345 upon successful completion of 1,700 hours of service. Members aged 55 and over may transfer the education award to a child, grandchild or foster child.
Eligible for deferment on qualified student loans.
Guaranteed health benefits, as well as child care assistance if qualified.
Relocation allowance of up to $550 if the service site is 50 miles or more from current residence.
Hands-on experience and training working in the legal field.
Opportunity to live, serve, and be part of the AmeriCorps team in the state of Montana.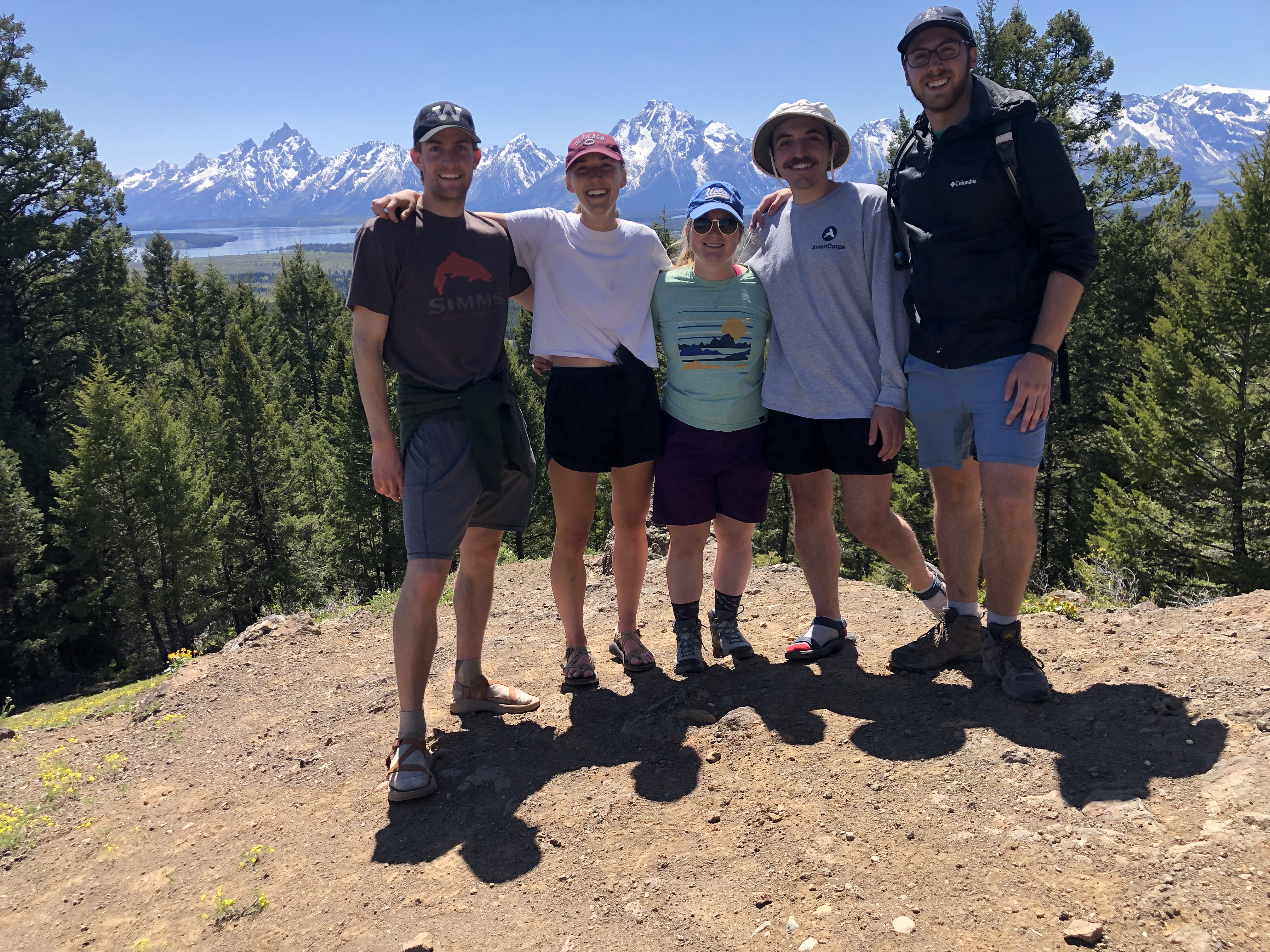 Patrick, Ellie, Paige, T.J., Max - JFM Members 2020-2021
Review the available positions and decide which position(s) and geographic area(s) are of interest to you. We review applications and make offers to qualified candidates starting in May and on a rolling basis until all positions are filled. It is in your best interest to submit your application early.
To apply you must submit:
Resume
Personal Statement (a brief statement, which may be in the form of a cover letter, explaining your interest in this position and the qualities and skills that make you a good candidate).
You may submit your application materials either by mail, e-mail, or fax.
Electronically:  For faster consideration, you may e-mail your application materials to [email protected].
Fax:  Fax your application materials to (406) 442-9817.
By mail: Send all application materials to the Justice for Montanans AmeriCorps Program at the address below.  Please make sure to sign your application form and background check authorization form before mailing.
Justice for Montanans AmeriCorps Program
Montana Legal Services Association
616 Helena Ave, Suite 100
Helena, MT 59601
Questions?  E-mail questions to [email protected].
Over 18 with a high school diploma or GED; college degree or equivalent work experience preferred
A United States citizen, United States National, or legal permanent resident
Ability to take initiative, handle multiple projects, track details essential to project completion, analyze information, and meet deadlines
Strong ability to communicate effectively orally and in writing with diverse groups of people
Demonstrated ability to work independently and as part of a team
Basic computer proficiency
Passion for increasing access to justice and assisting low-income individuals
A driver's license and personal means of transportation within the state of Montana are highly recommended
Must pass a national service criminal history check
The Justice for Montanans program complies with all federal and state anti-discrimination laws, including those requiring reasonable accommodations for members with disabilities.  Consistent with the Americans with Disabilities Act, project personnel must be made aware of a disability in order to provide reasonable accommodations.  Project staff can request accommodations from sites on behalf of members.  For more information contact [email protected] or visit http://www.serviceandinclusion.org/
It is against the law for organizations that receive federal financial assistance from the Corporation for National and Community Service to discriminate on the basis of race, color, national origin, disability, sex, age, political affiliation, or religion.  It is also unlawful to retaliate against any person who, or organization that, files a complaint about such discrimination. In addition to filing a complaint with local and state agencies that are responsible for resolving discrimination complaints, you may bring a complaint to the attention of the Corporation for National and Community Service. If you believe that you or others have been discriminated against, or if you want more information, contact the project or:
Corporation for National and Community Service
1201 New York Avenue, NW
Washington, DC 20525
Tel.: (202) 606-5000
TTY: (800) 833-3722
Email: [email protected]