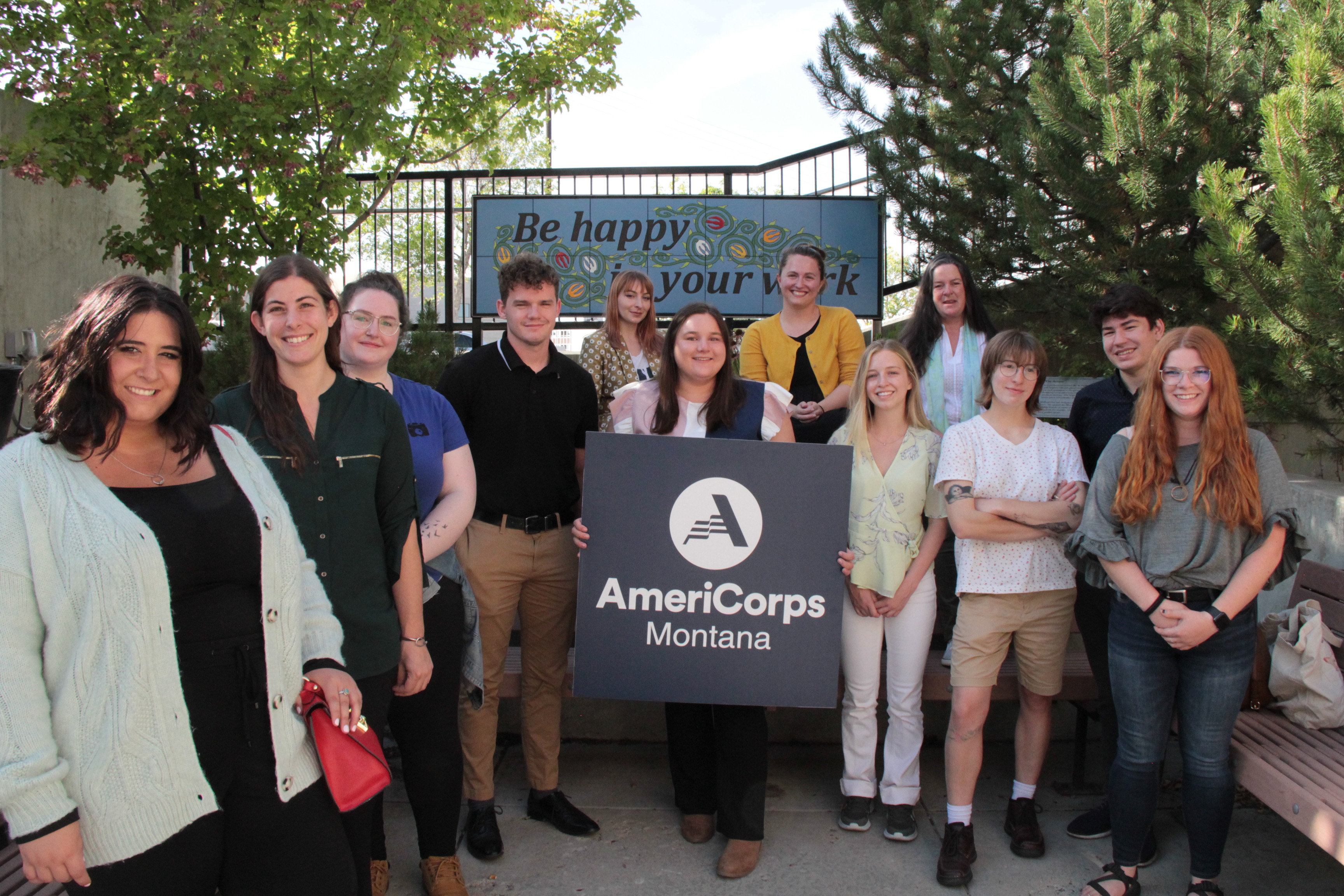 2021-2022 JFM members after swearing in at the Montana Supreme Court
Members of the AmeriCorps State Justice for Montanans Project serve with MLSA and other organizations to provide direct services to people seeking assistance with civil legal issues. We are accepting applications for 6-9 month terms starting now, summer internships and our September 2022-August 2023 service term, apply today!
Justice for Montanans (JFM) members empower low- to moderate-income Montanans to advocate for their legal rights and increase access to justice. Montana Legal Services Association partners with the Self-Help Program of the Montana Supreme Court Office of the Court Administrator, DCI's Office of Child and Family Ombudsman, DOJ's Montana Office of Consumer Protection & Victim Services, Legal Services Developer Aging Services, Montana Fair Housing, and the YWCA in Missoula.  The JFM AmeriCorps Project places 26 members directly in local Montana communities to help provide and expand intake and outreach, legal information, and referral services for Montana's low to moderate income residents seeking civil legal assistance.
Current AmeriCorps State Justice for Montanans Members
Annalisa, Legal Services Developer Program
Vacant, Office of Consumer Protection
Vacant, Office of Consumer Protection
Jacob, Montana Legal Services Association
Jason, Montana Legal Services Association
Saumya, Montana Legal Services Association
Vacant, Montana Legal Services Association
Vacant, Montana Legal Services Association
Jacklyn, Self-Help Law Center
Shannon, Office of the Child and Family Ombudsman
Sarah, Team Leader, Montana Legal Services Association
Amanda, Self-Help Law Center
Vacant, Self-Help Law Center
Emily, Montana Legal Services Association
Alex, Montana Legal Services association
Hannah, Self-Help Law Center
Lena, Self-Help Law Center
Vacant, Montana Fair Housing
Kat, Self-Help Law Center
Alli, Montana Legal Services Association
Hallie, Self-Help Law Center
Vacant, YWCA