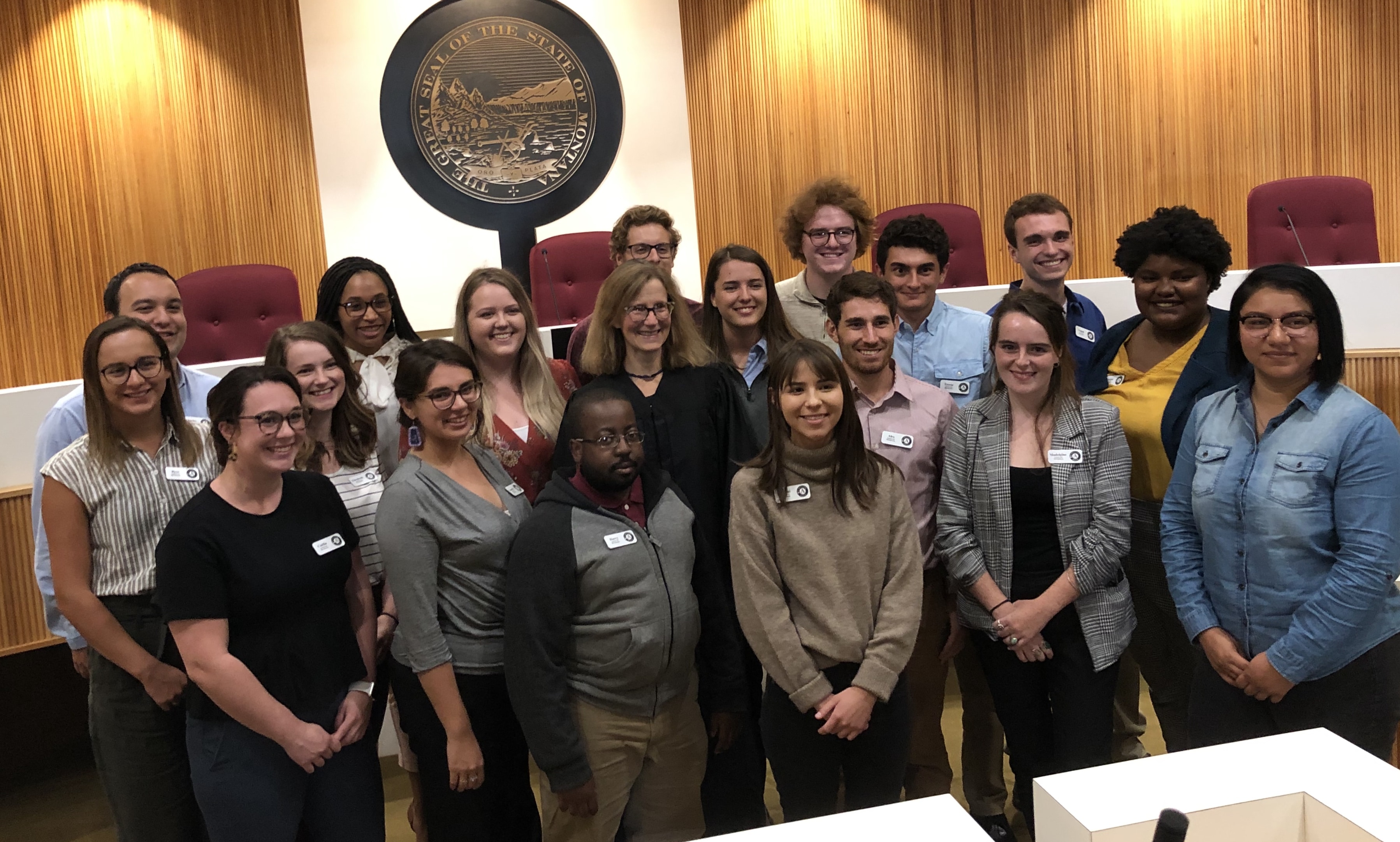 2019-2020 JFM members swearing in with Supreme Court Justice Baker.
Members of the AmeriCorps State Justice for Montanans Project serve with MLSA and other organizations to provide direct services to people seeking assistance with civil legal issues.
Justice for Montanans members empower low- to moderate-income Montanans to advocate for their legal rights and increase access to justice. MLSA partners with the Self-Help Program of the Montana Supreme Court Office of the Court Administrator, DCI's Office of Child and Family Ombudsman, DOJ's Montana Office of Consumer Protection & Victim Services, Legal Services Developer Aging Services, and Montana Fair Housing to place 20 members directly in local Montana communities to help provide and expand intake, legal information, and referral services for Montana's low-income residents seeking civil legal assistance.
MLSA is a federally and privately funded nonprofit organization that provides legal services to low-income people throughout Montana. For more information about MLSA, visit www.mtlsa.org.
The Montana Supreme Court Office of the Court Administrator assists self-represented litigants and other people in finding legal information, forms and other resources. For more information about the Self-Help Law Centers, visit https://courts.mt.gov/selfhelp.
The mission of OCFO is to work to prevent child abuse and neglect and increase safety, well-being and permanency for Montana's children through fair and just advocacy, education, outreach and investigation. For more information about the Children's Justice Bureau and OCFO, visit https://dojmt.gov/enforcement/childrensjustice/
The Montana Legal Services Developer in the Office on Aging, provides elder law training and resources for seniors, family members and social outreach workers. The program also develops pro bono and local legal services referrals, training materials and telephone assistance to seniors on related matters. For more information about the Legal Services Developer Program, visit https://dphhs.mt.gov/sltc/aging/legalservicesdeveloper
Montana Fair Housing investigates allegations of discrimination in housing, counsels victims of discrimination, and facilitates both the state and federal complaint process. We also assist victims of housing discrimination, under specific circumstances, in securing the representation of counsel when the filing of a complaint in court is deemed the best option. For more information about Montana Fair Housing, visit http://www.montanafairhousing.org/
Current AmeriCorps State Justice for Montanans Members
Patrick Armstrong, Self-Help Law Center
Sapphire Carter, Montana Legal Services Association
Elizabeth Finn, Office of Consumer Protection and Victim Services
Karen, Montana Legal Services Association
Charles Jetty, Office of Consumer Protection and Victim Services
MacKenzie Johnson, Office of the Child and Family Ombudsman
Alex Kramer, Office of Consumer Protection and Victim Services
Naomi Lopez, Montana Legal Services Association
Ryce Pierzina, Legal Services Developer Program
Molly Walsh, Montana Legal Services Association
Trevor Wright, Montana Legal Services Association
Jill, Montana Legal Services Association
Kaylyn Roberts, Self-Help Law Center
Daniel Foster, Self-Help Law Center
Lindsey Bales, Montana Fair Housing
Caitlin Acevedo, Self-Help Law Center
Harry St. Cloud II, Self-Help Law Center
Madeleine Lamon, Self-Help Law Center
Akemi Nakagawa, Montana Legal Services Association
Anna Martin, Self-Help Law Center